Angela Price-Stephens has appeared as a guest numerous times on 650AM The Law Show with Sterling Faux talking about issues of medical malpractice and personal injury law.
Angela is also a regular contributor to the Trial Lawyers' Association of British Columbia's professional peer-reviewed journal The Verdict which is published four times per year. See Articles for the most recent publications.
Angela makes regular presentations to lawyers' associations including the Trial Lawyers' Association of British Columbia, Ontario Trial Lawyers' Association and the annual Western Canadian Medical-Legal Conference. Presentation and seminar papers, when published, may be found on the Seminars page. Many of the presentations, however, are strictly limited to plaintiffs' counsel only and therefore may not be published.
Each year Angela Price-Stephens offers free in-house continuing legal professional development (free CPD credits) to the plaintiffs' bar. For a list of topics available and to register your firm's interest in a seminar please contact Angela.
Video Library – Check back soon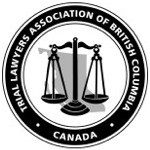 Contact Medical Malpractice BC
Medical Malpractice BC
Angela Price-Stephens
Mon - Fri: 9:00 AM-5:00 PM